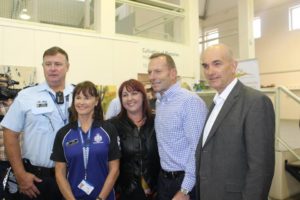 We successfully put together a grant funding application for Cooroy Chamber of Commerce with Cooroy Police (special mention to Volunteer in Police, Anne Winning and CCTV consultant Douglas Grant for all the leg work they put in) for $200,000 in CCTV cameras for Cooroy.  In May, we helped coordinate a visit from Tony Abbott, Warren Truss and Llew O'Brien to Cooroy to announce that the application was successful!
Cooroy was all abuzz on Wednesday with a visit by Former Prime Minister Tony Abbott, and Former Deputy Prime Minister and Member for Wide Bay Warren Truss and LNP Candidate for Wide Bay Llew O'Brien.  They joined representatives from the Cooroy Chamber of Commerce and Cooroy Police for the announcement of Government grant funding worth $200,000 for Cooroy CCTV cameras.
"Cooroy is open for business and closed for crime.  We have a wonderful town and the Cooroy Police work very closely with the community and businesses.  This funding will complement the great work that our Cooroy Police already do and will be strong deterrent to criminals ensuring that Cooroy continues to be a wonderful place to live and work," said Cooroy Chamber of Commerce President, Danielle Taylor.
"This commitment will deliver 23 CCTV cameras in Cooroy's CBD, along Maple Street and the industrial park and allow for access by police at the Cooroy Police Station," Mr O'Brien said.
"The Cooroy CCTV cameras network will enable police to monitor and respond to any suspicious activity.
"The presence of CCTV cameras also acts as a deterrent to those who are considering breaking the law. Potential offenders will think twice about possible criminal behaviour if their chances of being caught on camera are high."
Mr Truss said the presence of CCTV cameras helps people to feel safer and more secure in their neighbourhoods.
"Whether people are going about their business, shopping, out to dinner with friends or enjoying a night out, CCTV cameras provide an additional layer of security to help protect businesses, residents and their property," Mr Truss said.
The Safer Streets Programme supports communities at the grass roots to help address crime and anti-social behaviour, and boost crime prevention initiatives to keep our streets safe.
"The Federal Coalition Government is delivering on its commitment to prevent crime and improve the safety of our local communities by putting money into affordable, achievable, sensible programmes like our plan for safer streets," Mr Abbott said.
"Only safe communities can be strong and prosperous, and one of the best ways to tackle crime and anti-social behaviour is to install CCTV.
"The Coalition will continue to reinvest money confiscated from criminals and use it to fund projects that make our streets and communities safer."
In the first grant funding round, the Safer Streets Programme provided $19.5 million for specific projects for the installation of CCTV and lighting. This is the second round of funding which will be delivered in two streams: one to fund community safety infrastructure such as CCTV and lighting and the second to deliver crime prevention initiatives by supporting the vital work of PCYC and Bluelight organisations.
Click Here to Find Out More About our Grant Funding Application Work