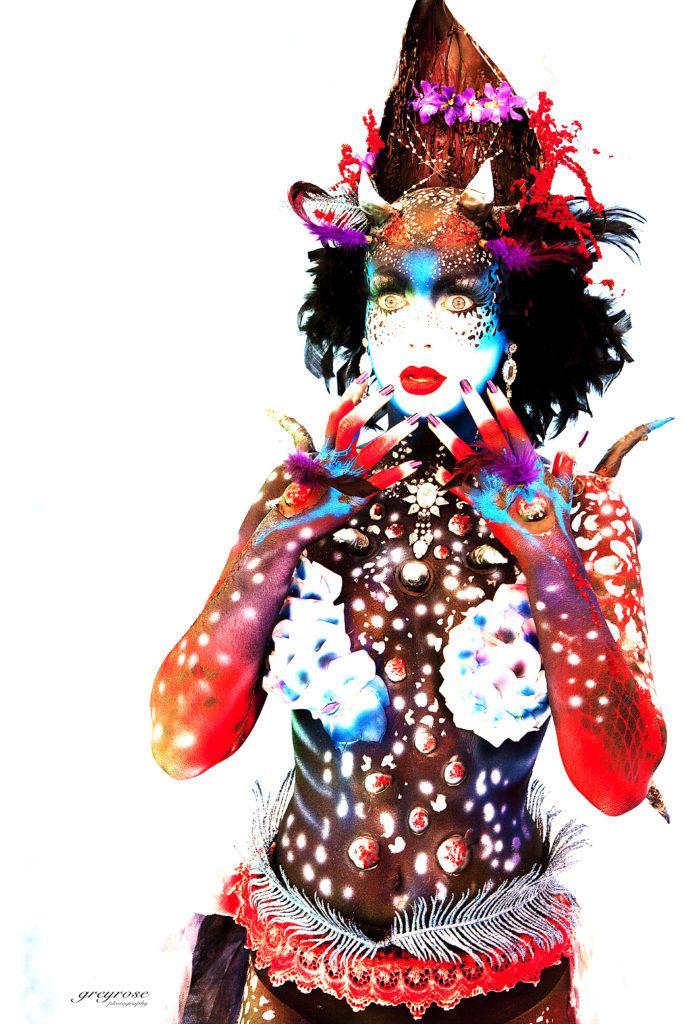 The iconic Australian Body Art Festival has found a new home in the beautiful Noosa hinterland.   The 2017 event will take place at the Lower Mill Site in Cooroy on the weekend of 8 and 9 April 2017, attracting artists and spectators from across Australia and overseas.
Cooroy Chamber of Commerce were excited to bring the event to Noosa after it had been successful run in Eumundi since 2009.
"It's such a wonderful festival with some terrific artists and a great community, family vibe which will be a perfect fit with the artistic Cooroy community.  We've had fantastic feedback about bringing the event to Cooroy and artists registrations have been flowing in steadily.  We can't wait to see all the wonderful living artworks that are created," said Cooroy Chamber of Commerce President, Danielle Taylor.
The event is centred on competitions in temporary body painting with competitions in the categories of brush and sponge, airbrush, special effects and face painting. The event also showcases competitions and exhibitions in wearable art and photography. Amateur and professional artists are being urged to enter the 2017 Australian Body Art Festival which has a theme of "Wonderland".
Danielle says the theme lends itself to a wealth of interpretations, "Wonderland conjures up thoughts of Alice in Wonderland, Winter Wonderland and anything in the wonderland of your imagination such as mystic dragons and magical forests."
"We encourage and challenge artists from a range of backgrounds to get involved as there is something for everyone – artists with experience in fine art and visual art, make up and special effects, textile art, street art, airbrush sign craft, spray painting, graphic art, fashion and photography."
"If you've never competed in an event like this, it's simply a matter of adapting your skills to use body paint on the canvas of the human body!  And for the wearable art competition, use your skills to create funky fashion using recycled materials."
"Past entrants tell us that it is an experience like no other – a unique chance to work alongside fellow artists and a chance to showcase creativity to a large audience, with some great prizes and a whole lot of fun."
Competition details have been released and registrations are now open on the website www.australianbodyart.com.au.  Early bird entry fees apply for all registrations before 1 February 2017.
The Australian Body Art Festival is a free non-for profit community event thanks to the generosity of its funding partners – Cooroy Chamber of Commerce, Firefly Solutions, Cooroy App, AFABA, Gelignite Jacks, Funtopia, Cooroora Woodworkers, CCTV Specialists and Studio Republic.  Sponsorship opportunities are also available for businesses that want to support this wonderful event.
Visit www.australianbodyart.com.au for more info, competition registration, sponsorship opportunities, market stall registrations and to sign up to receive eNewsletters in the lead-up to the event. The event also has a Facebook page: https://www.facebook.com/AustralianBodyArtFestival